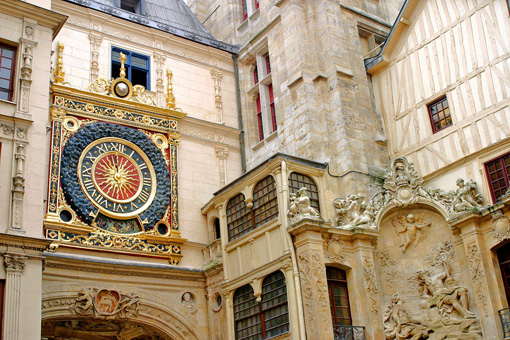 Rouen is situated about 120 Km from Paris in the Seine Valley, at 60 Km from Atlantic Sea. Frequent daily trains connect Rouen to Paris (Gare Lazare). Highway A13 deserves Rouen and Shuttle services connect the town to Airports Charles De Gaulle (Roissy) and Orly. More information on connections to Rouen is given below. Some touristic information may be found here. Hotel Information may be obtained at the tourist office.
Some typical distances from the center of Rouen :
| | |
| --- | --- |
| Airport CDG | 133 Km |
| Airport Orly | 150 Km |
| Paris (Notre Dame Cathedral) | 132 Km |
| Paris (Eiffel Tower | 129 Km |
| Beauvais (Low Cost Airport) | 82 Km |
| Dieppe | 58 Km |
| Giverny (Monet's gardens) | 50 Km |
| Honfleur | 72 Km |
| Etretat | 85 Km |
| Le Havre | 86 Km |
| Deauville | 94 Km |
| Caen | 129 Km |
| Mont Saint Michel | 236 Km |
| Brussels | 343 Km |
Joining Rouen by train: From the Gare Saint-Lazare, twenty trains daily in each direction connecting Paris and Rouen in about 1h15. TGV lines connect daily Rouen to Lyon and Marseille.
See the french national railways website: http://www.voyages-sncf.co.uk/
Joining Rouen by car: Rouen is connected to Paris by the highway A13 (130km), for a driving time a little over an hour. The city is linked to the Normandy and Brittany by the same highway. North side, Rouen is connected to England via the A28 and the Channel Tunnel motorway. Consult the website of the Normandy motorway.
Joining Rouen by boat: Dieppe offers a connection to Newhaven, while Le Havre offers connections to Newhaven and Portsmouth. This last one is also connected to Caen. All these cities are connected to Rouen by highway and railway. Consult the websites of the companies: Transmanche Ferries , Brittany Ferries, LD Lines.
En navette, à partir d'un aéroport parisien des services de taxi collectif ou individuel relient Rouen aux grands aéroports parisiens. Par exemple, les compagnies suivantes offrent un tel service :
Joining Rouen by Shuttle from Paris airports: Shuttle services connect Rouen to the most important Paris airports. Consult the websites of the companies Routair, Périer, Transnormandie, Les taxis blancs, Taxi Tour Evasion, Paris Shuttle, Albion Voyages, Navette Paris Aeroport, ...
Joining Rouen by the local airport: Rouen Airport is associated with Lyon airport, which offers many connections, such as, for example, to Ajaccio, Amsterdam, Barcelona, Bastia, Biarritz, Birmingham, Bologna, Bordeaux, Brest, Brussels, Budapest, Casablanca, Clermont-Ferrand, Copenhagen, Dusseldorf, Florence, Frankfurt, Hamburg, Lille, Limoges, Lorient, Lyon, Madrid, Marseille, Metz, Milan, Montpellier, Mulhouse, Munich, Nantes, Nice, Pau, Prague , Rennes, Rome, Strasbourg, Stuttgart, Toulouse, Venice, Vienna, Zurich.
Website: http://www.rouen.aeroport.fr.
Joining Rouen by the Beauvais airport: The airport of Beauvais is specialized in low-cost flights and offers connections to Barcelona, Bergen, Bucharest, Budapest, Copenhagen, Dublin, Glasgow, Katowice, Milan, Oslo, Rome Ciampino, Shannon, Stockholm, Warsaw, Venice. Shuttle transport from Beauvais to Rouen is available: see, for instance, Transport Linea.
Airport Website: http://www.aeroportbeauvais.com
Other regional airports near Rouen are Deauville and Caen.
You may book your hotel by using this form in Word or the same one in PDF (deadline at June 6th.) Contact for hotels is Mrs. Beatriz Delfanne (b.delfanne@rouenvalleedeseine-tourisme.com).