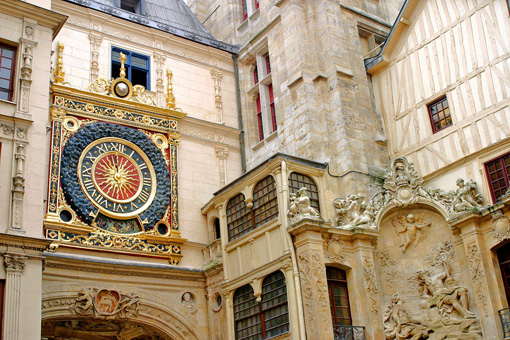 Rouen is the capital of Normandy and Seine-Maritime, located at the crossroads of Paris, Brussels and London. Its leading industries are related to aerospatial, automotive, chemical and pharmaceutical markets. The city has more than 150 gourmet restaurants, 3,700 hotel rooms and 3,000 shops.
Rouen is also the site of a unique cultural and historical heritage. Its historic center is reserved for pedestrians, which invites you to walk among the half-timbered houses typical of Normandy, mansions and Gothic renaissantistes and architectural treasures such as the Notre Dame Cathedral, the Abbey of Saint-Ouen, St. Maclou church, the Palace of Justice, the Gros Horloge, the St. Maclou Square and hotel Bourgtheroulde.
Walking in Rouen, we join previous visitors as Richard Lion Heart, William the Conqueror, Joan of Arc, Pierre Corneille, Gustave Flaubert, Claude Monet, Victor Hugo, Guy de Maupassant, Jean-François Sartre, Simone de Beauvoir ...
Many abbeys may be found in the neighbours of the city: Saint-Ouen - located in the historic center of Rouen - Jumièges, Saint Martin de Boscherville, Saint Wandrille, Le Bec-Hellouin, Mortemer, Fontaine-Guérard, ...
The city of Rouen is located on a bend of the Seine Valley. The effect of the tide may be observed in the Seine at Rouen. Between Rouen and the sea, it is possible to cross the Seine by using one of the local ferries or by one of the three bridges located outside the town (Brotonne, Tancarville, Normandy).
The Rouen site is abundantly supplied with water and surrounded by beautiful forests and gardens (partial list available at http://www.parcs-et-jardins-hn.com). The beauty of the place and the light of Normandy have inspirred many painters. Impressionists have widely used the local landscapes. The title of the impressionist movement results from a famous Monet painting done in Le Havre - Impression au soleil levant. It is possible to extend the visit by following the footsteps of Sisley, Manet, Morisot, Pissarro, Turner and others.
Site of the tourist office of Rouen: http://www.rouentourisme.com/.